"Excellence in Inspiring Know-how"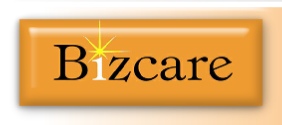 Totally Integrated Business Solutions
Bizcare has adopted the following privacy statements as part of our commitment to protect any personal information which may be provided to it through this web site www.bizcare.co.uk.
Confidentiality and Data Security
Bizcare is the sole owner of the information collected on this site. Any information provided to it will be held securely in accordance with the UK Data Protection Act 1998.
Bizcare will not disclose any personal information to third parties unless permission to do so has been obtained from the user.
Information Collected via this Web site
Information collected from the site user and how we will process such information - Bizcare collects user information through the various enquiry forms within this web site which will include user name, address, company, telephone, fax, email etc.; which will be used to contact you (if requested by way or reply to your enquiry) or to send on information requested and nothing else.
The data collected may be used by Bizcare for (1) contacting you as mentioned above; (2) keeping a record of your enquiry for statistical purposes by Bizcare only. The data may be stored in a secure database or via our email address book. This data will be held on our system for our internal use only and will be deleted from our system when no longer required.
Electronic Internet based data often contains basic information for statistical site hit monitoring purposes only, such as what time what pages were viewed, and the IP address of visitors etc which do not contain any information about individual personal identity of the site users themselves. Such information is used by Bizcare in conjunction with its service provider to analyse trends, in order to administer the site and gather broad demographic information only.
Changes to any of the above Statements
If any of the above statements are amended then these will be published on the web site and will become effective by the end of the month in which the change is published.
Should you have any queries about the way in which we store personal data on this web site then please email us at enquiries@bizcare.co.uk or contact us any other way you wish by visiting our "contact us" page.
Unless otherwise indicated all material on this site is protected by copyright and is the property of Bizcare.
Whilst you may copy all or part of the information included within this site for personal use or reference, you are not permitted to republish or redistribute any part of it for any purpose without the express written permission of Bizcare.
Bizcare does not guarantee that the information on this site is accurate, complete or useful for any particular purpose other than for Bizcare as a marketing tool.
Bizcare therefore cannot accept any responsibility for loss or damage arising from the use of materials included on this site.
The information on this site is also liable to change without notice and is not guaranteed to be free from technical error, malfunction or unauthorized tampering.
This website is fully Compliant to W3C Standards and Recommendations
Cookies - What is a Cookie
A cookie is a small piece of text sent to your browser by a website you visit. When you visit any website, it may store or retrieve information on your browser, mostly in the form of 'cookies'. This information, which might be about you, your preferences, or your Internet device (computer, tablet or mobile), is mostly used to make the site work as you expect it to. The information is not usually personally identifiable to you, but it can be used to give you a more personalised web experience.
We use cookies to simply make the sign up process much easier for you to use by separating it into easy-to-follow steps. It also allows you to go back where you left off if you have any problems with your computer or Internet connection.
Because we respect your right to privacy, you can choose not to allow cookies to be set. If a message pops up asking if you want to enable cookies, go ahead and enable them for this web site. If you don't enable them it may impact your experience of the site and the services we are able to offer.
This website uses Google Analytics, a web analytics service provided by Google, Inc. ("Google"). Google Analytics uses "cookies", which are text files placed on your computer, to help the website analyse how users use the site. The information generated by the cookie about your use of the website (including your IP address) will be transmitted to and stored by Google on servers in the United States . Google will use this information for the purpose of evaluating your use of the website, compiling reports on website activity for website operators and providing other services relating to website activity and Internet usage. Google may also transfer this information to third parties where required to do so by law, or where such third parties process the information on Google's behalf. Google will not associate your IP address with any other data held by Google. You may refuse the use of cookies by selecting the appropriate settings on your browser, however please note that if you do this you may not be able to use the full functionality of this website. By using this website, you consent to the processing of data about you by Google in the manner and for the purposes set out above.
No personal data is obtained, stored or shared by this site or by Google.